| | | | |
| --- | --- | --- | --- |
| Honourable Sinclair Stevens | | | |
Monday, 27 July 2009 10:43
Sinclair McKnight Stevens, PC is a former Canadian parliamentarian.    


He was first elected to the Canadian House of Commons in the 1972 federal election as a Progressive Conservative Member of Parliament, defeating Liberal incumbent John Roberts in the riding of York-Simcoe. Stevens ran as a candidate in the 1976 Progressive Conservative leadership convention. He finished seventh on the first ballot, and withdrew in favour of the eventual victor Joe Clark. He served as President of the Treasury Board in the short-lived (1979-1980) Clark government.
With the return of the Progressive Conservatives to power in 1984, Stevens was the Minister of Industry Trade and Commerce and introduced legislation establishing Investment Canada that has the role of insuring foreign investment as a net benefit to Canada.
Stevens has since become involved with the website bloc-harper.com, which promotes the idea that Prime Minister Stephen Harper and Bloc Québécois leader Gilles Duceppe are weakening Canadian federalism in a way that could lead to Quebec's separation from Canada. In 2007, following Tracy Parsons's resignation as leader of the Progressive Canadian Party, Stevens became that party's interim leader.

The Hon. Sinclair Stevens, PC, PC Party Leader, passed away November 30, 2016.  Mr. Stevens is succeeded as Progressive Canadian interim leader by former Progressive Conservative MP in the 29th Parliament, Joe Hueglin.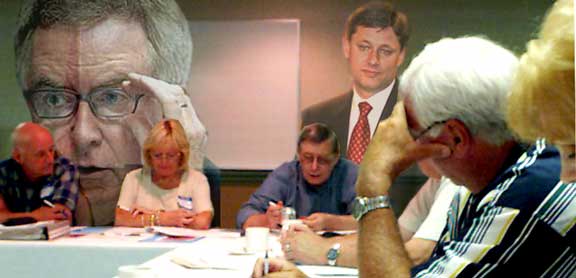 Last Updated on Friday, 03 February 2017 15:31